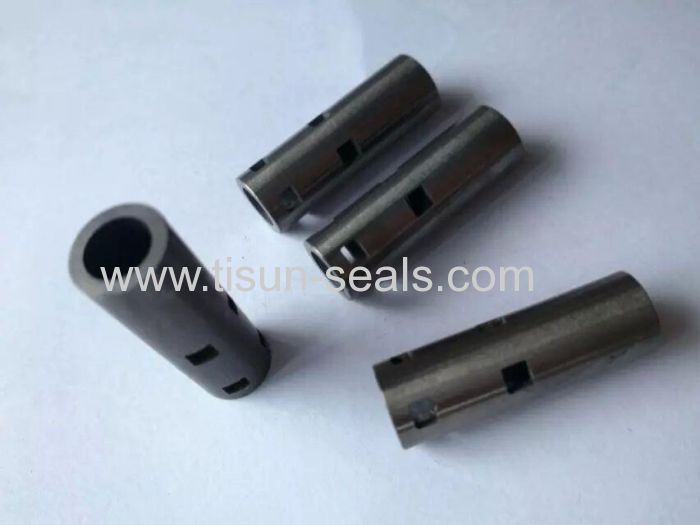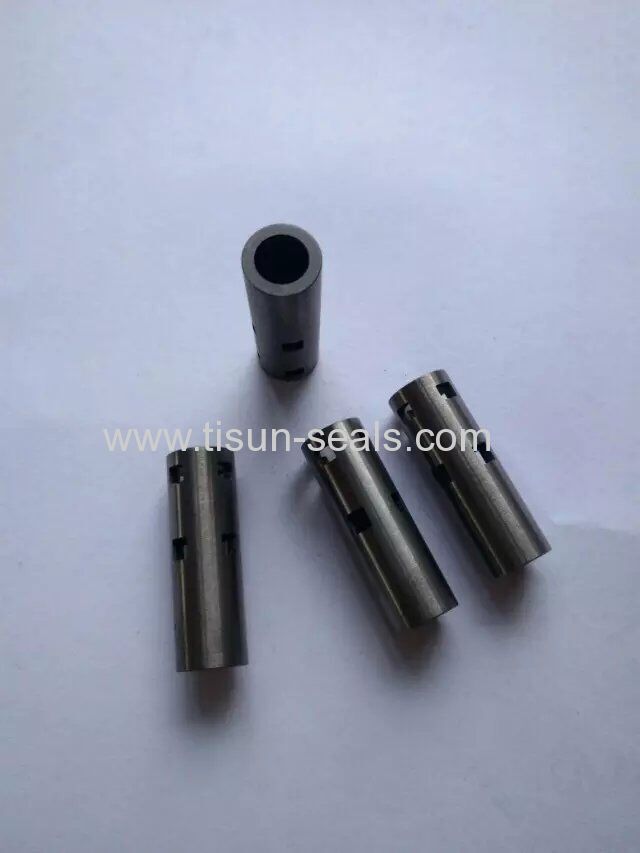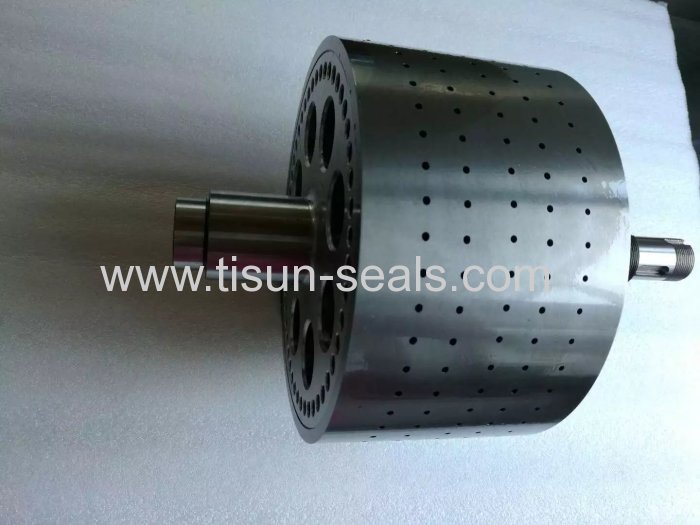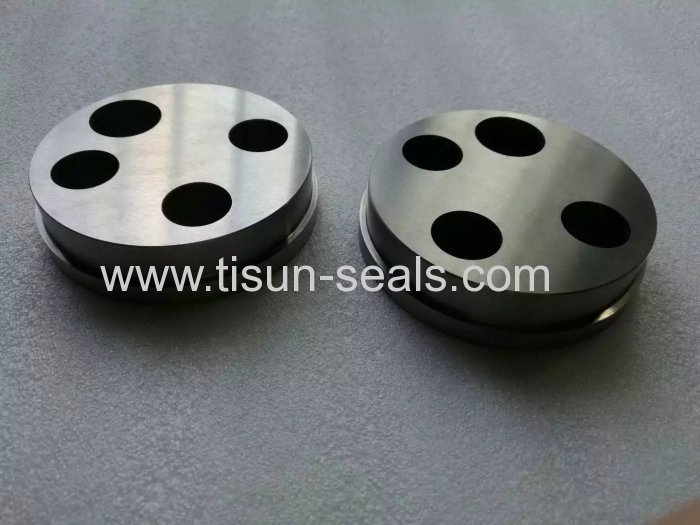 TC Ring(Tungsten carbide ring)
APPLICTION:
Tungsten carbide (T.C.& W.C.) is a super material, main for mould and wear resisting application; currently we supply nickle and cobalt binder for our customers that used widely within high parameter seals.
PHYSICAL PROPERTY:
-- High hardness
-- Good wear resistance
-- High temperature resistance
-- Minor linear expansion coefficient.
-- Minor coeffcient of friction
TYPE AND PRODUCTS
--Type 1: Nickle binder.
-- Suitable medium: Oil, sewage, weak acid and alkali, grease, liquid hydrocarbon, strong alkali, and medium
containing particles, etc.
Item

type

Main chemical component( %)

Density

Hardness

Bending strengthno less than(N/mm2)

Coefficient of linear expansion

TC

Co

NiCr

(g/cm3)

(HRA)

(10-6/K)

Ni-binder

M106

94

-

6

14.5-14.9

89.5

1550

5.2

Ni-binder

M108

92

-

8

14.4-14.8

88.5

1720

5.3
-- Type 2: Cobalt binder.
-- Suitable medium: Oil, sewage, weak acid and alkali, grease, liquid hydrocarbon, strong alkali, and
medium containing particles etc
Item

type

Main chemical component( %)

Density

Hardness

Bending strengthno less than(N/mm2)

Coefficient of linear expansion

TC

Co

NiCr

(g/cm3)

(HRA)

(10-6/K)

Co-binder

YG6

94

6

-

14.6-15

89.5

1580

5

Co-binder

YG6

92

8

-

14.5-14.9

89

1750

5.1
-- Wearproof and anti-shock for Cobalt binder T.C. & W.C.
| | | | | |
| --- | --- | --- | --- | --- |
| Item Cobalt | content (WT90) | Density(g/cm3) | Hardness(HRA) | Bending strength no less than(N/mm2) |
| YG8C | 8 | 14.5-14.8 | 88.5 | 2020 |
| YG9C | 9 | 14.3-14.7 | 88 | 2100 |
| YG11C | 11 | 14-14.4 | 86.5 | 2280 |
| YG13C | 13 | 13.9-14.3 | 86.5 | 2320 |
| YG16C | 16 | 13.8-14.1 | 83.5 | 2400 |
| YG20C | 20 | 13.4-13.6 | 83 | 2460 |
Sample Time:
Weprovide free samples for parts in stock. Client pays for air freight for sampledelivery or provide freight account on collect.
Sample can be sent outnext day upon request.
Please send email forsample requirement.
Bulk Order DeliveryTime:
Stock in hand: Shipnext day after receipt of payment.
Bulk production: 30~45days after receipt of deposit (may vary depending on specific items and itemquantities)
For urgent order, wecan make it faster. Please send email to negotiate.

Shipping Options withestimated charge (freight may vary depending on specific weight, volume, andaddress, check with us for the exact freight):
- Air freight to door byFedEx (100KGS-300KGS)= $4.40-$5.80/KG
- Air freight to door byFedEx (less than 100KGS)= $6.20-$8.00/KG
- Ocean freight to door=$600-$1,200/ shipment
- Ocean freight tonearest port= $100-$200/ shipment
Wework with the most professional forwarders in the world and we share our largeshipping discounts with all our customers.

Weusually accept T/T (wire transfer), PAYPAL, Western Union,
Other terms like MONEYGRAM, L/C, D/P, D/A, O/A can be negotiated.

1.Neutral packing(neutral plastic bag+ neutral carton+ Plywood/Iron pallets)
2.Custom packing (withlogo or barcode according to clients' requirement)
1. As a directmanufacturer and also a trading company, we are able to have the best resourcesintegrated in China and offer our clients qualified parts at the mostcompetitive price.
2. Quality Assurance:100% QC inspection before delivery; ISO9001:2008, and SGS certified; Full refundor replacement for quality faulty; 90 days quality warranty for ALLproducts.
3. Excellent customerservice, responded within 24 hours.
4. Fast delivery: we havelarge amount of stock ready to ship the next day after order, and for bulkproduction, we can work on urgent order and deliver in time.
5. We provide OEM serviceand can make custom parts according to clients' prints or sample pieces.
6. With 10 year'sexporting experience, we've worked with customers worldwide (NORTH AMERICA 80%,EUROPE/11%, Oceania/5%, RUSSIA/2%, South Korea/1%, Japan/1%).
7. Monthly productioncapacity over 200,000pcs, one of the three largest in our field in China.
8. Cheapest Shipping: theprice we enjoyed is the cheapest in Shanghai, "84% off from FedEx" and "80% offfrom DHL".
9. One-Stop service: wecan take care of everything from production, shipping, import clearance, door delivery until your order is right there in your hands.

1.Client confirms price, lead time, sample (if needed) from TISUN SEALS
2.Client sends 30% deposit (or other terms agreed) after receiving TISUN SEALS 'sProforma Invoice.
3.Client approves our production sample, and get the testing report ifneeded.
4.tISUN SEALS arranges shipment and provides necessary documents and send copy ofthese documents.
5.Client sends balance payment.
6.TISUN SEALS sends original documents or telex release the goods.
7.Client receives order and gives feedback on quality, service, andsuggestion.
8.Quality warranty for 90 days after shipment.
Summary of seal failure reason:
Usually hard ring (static ring) on the surface of overheating will cause severe wear on the seal ring, such as vertical pump without cooling., spring compression under high temperature and high pressure is too large, axial string move will be too big, can cause the transition of sealing surface wear and tear,
There are four kinds of hard in the check ring surface signs should pay attention to:
(1) ceramic ring rupture;(2) cracking;(3) notch;(4) coating fall off.
Ceramic ring assembly tight is the main cause of fracture, improper assembly is also one of the more common reasons.
Due to both linear expansion rate of the coating material and substrate material is different, so the temperature rises, the ring surface cracks appear, too litas alloy is particularly acute.In more advanced coating material, the nickel-based coating is better than cobalt-based tungsten carbide.For the sealing surface for cooling, can effectively prevent the cracking, residues in the seal on the surface of the solid particles often damage the surface, such as grinding wheel on surface of the sand will damage the hard ring, lead to open or between the sealing surface sealing surface to generate crystal, and after regrinding graphite ring, abrasive materials will be embedded in graphite ring surface.