mechanical Seal categories
mechanical Seal categories
2013-07-13 17:39:36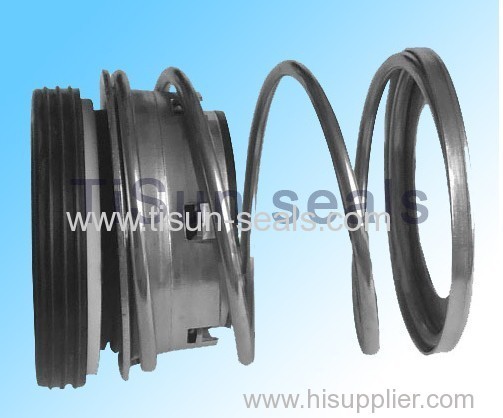 All mechanical seals must contain the four elements described above but the way those functional elements are arranged may be quite varied. Several dimensional and functional standards exist, such as API Standard 682 - Shaft Sealing Systems for Centrifugal and Rotary Pumps, which sets precise configurations and sizes for mechanical seal used in Oil & Gas applications.
Mechanical seals are generally classified into two main categories: "Pusher" or "Non-Pusher". These distinctions refer to whether or not the secondary seal to the shaft/sleeve is dynamic or stationary. Pusher seals will employ a dynamic secondary seal (typically an o-ring) which moves axially with the primary seal face. Non-pusher seals will employ a static secondary seal (either an O-ring, high temperature graphite packing, elastomeric bellows or metal bellows). In this case, the face tracking is independent of the secondary seal which is always static against the shaft/sleeve.
A "cartridge seal" is a prepackaged seal that is common in more complex applications and were originally designed for installation in equipment where a component type seal was difficult due to the equipment design. Examples of this are horizontally split and vertical pumps. In 1975 the A W Chesterton Company designed the first cartridge seal that fit pumps with varying stuffing box bore sizes and gland bolt patterns. To accomplish this the seal utilized internal centering of the stationary parts and slotted bolt holes. This "generic" cartridge seal could be manufactured in higher production quantities resulting in a cartridge seal that could be used in all applications and pumps types. Cassette seals utilize a replaceable inner "cassette" mounted in the cartridge end plate or gland, while modular cartridge seal systems makes it possible to replace only the parts subject to wear, such as sliding faces, secondary seals and springs, while keeping the seal's hardware (gland, sleeve, bolts). Cartridge seals can suffer from clogging due to the bigger space occupied inside the stuffing box, leading to dense or charged fluids not moving enough to centrifugate the solid particles. Moreover, the sleeve which is necessary to keep the parts of the seal together is a rigid part in contact with the shaft and greatly decreases the seal's tolerance to radial misalignment. The sleeveless cartridge seal technology overcomes such issues and has been patented in 2006.
Gap seals are generally used in bearings and other constructions highly susceptible to wear, for example, in the form of an O-ring. A clearance seal is used to close or fill (and join) spacing between two parts, e.g. in machine housings, to allow for the vibration of those parts. An example of this type of seal is the so-called floating seal which can be easily replaced. These seals are mostly manufactured from rubber or other flexible but durable synthetic materials
---